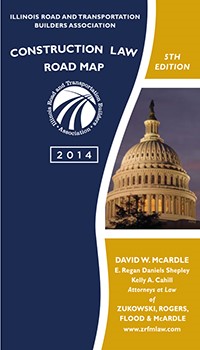 David W. McArdle, a Crystal Lake attorney and managing partner of Zukowski, Rogers, Flood & McArdle, has authored another updated edition of his handbook titled Construction Law Road Map, which focuses on construction law. Partners Regan Shepley and Kelly Cahill also contributed to the new edition.
The Construction Law Road Map provides an overview of the issues contractors regularly face in the areas of contract law, employment and litigation.
The 5th edition highlights recent changes in the law regarding Mechanics Liens, the Employee Classification Act, Prevailing Wage Act, Health Insurance Offerings/Affordable Care Act (ACA), and Public Bond Claims. This edition also provides full citations of authority to assist contractors in need.
To order the handbook, call (815) 459-2050 or order here.