Behind our credentials as a firm is a commitment to quality and a results-oriented approach to the practice of law. We speak the day-to-day language of our clients and understand their concerns. That's why our lawyers have taken the time and made the commitment to make their practical knowledge of construction law and municipal law available to a wide audience in two highly praised books that are easy to understand, and are not just statewide but national in value and scope. These are practical and highly affordable guides that answer common questions and offer helpful insights. They don't take the place of legal guidance – but they let you benefit from the experience and reputation of skilled lawyers and authoritative professional associations.
Construction Law Road Map – 2014 (5th Edition)
By: David W. McArdle
David W. McArdle, a Crystal Lake attorney and managing partner of Zukowski, Rogers, Flood & McArdle, has authored another updated edition of his handbook titled Construction Law Road Map, which focuses on construction law. Partners Regan Shepley and Kelly Cahill also contributed to the new edition.
The Construction Law Road Map provides an overview of the issues contractors regularly face in the areas of contract law, employment and litigation.
The 5th edition highlights recent changes in the law regarding Mechanics Liens, the Employee Classification Act, Prevailing Wage Act, Health Insurance Offerings/Affordable Care Act (ACA), and Public Bond Claims. This edition also provides full citations of authority to assist contractors in need.
The handbook can be ordered by calling (815) 459-2050 or Click Here to Order.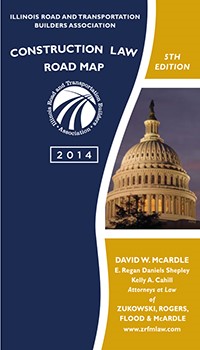 You've Been Elected! Now What Do You Do?
By: Richard Flood and Ruth Schlossberg
Zukowski, Rogers, Flood & McArdle (ZRFM) announces the publication of its book, You've Been Elected: Now What Do You Do? The book is a practical guide to serving as a successful local public official. While the book is addressed to newly elected officials serving in any type of local government unit in Illinois, it may be equally useful as a resource and reference tool both for more experienced elected officials and for local government staff members. ZRFM attorneys Richard Flood and Ruth Schlossberg wrote the book to help elected officials "hit the ground running" and succeed in their new leadership positions.
Topics covered in the book include an introduction to local government law and structure in Illinois, advice on how to get started including getting to know colleagues and staff, thanking constituents, supporters and even opponents. According to Rich Flood, "We address the complexity of local government, issues of professionalism and civility, strategic planning and communications with the public, the media, your staff and other bodies of government, and we explore how to build a shared vision within a community."
"The handbook also introduces the requirements of the Freedom of Information Act, the Open Meetings Act, ethics, conflict of interest rules and the bidding and contracting requirements of state law," Flood says. "Readers are given an introduction to local government finance including discussions of budgeting, taxes, tax cap legislation, economic incentives and other sources of revenue and expense along with a short introduction to land use issues including zoning and planning and common municipal legal issues."
Schlossberg adds that "the book is loaded with helpful hints such as how to run successful and productive meetings and how to communicate with the press. It encourages reflective thinking on the role, function, and limits of local government."
The handbook can be ordered by calling 815-459-2050 or using the button below.