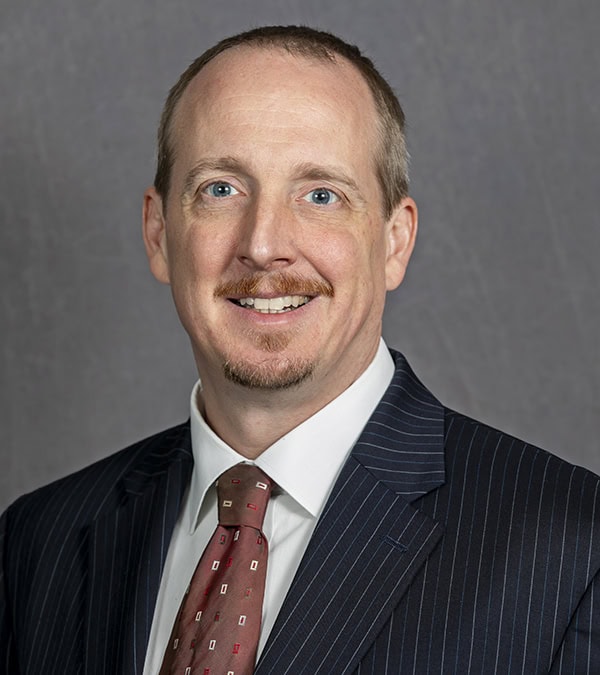 Zukowski, Rogers, Flood & McArdle
50 Virginia Street
Crystal Lake, Illinois 60014
815-459-2050
[email protected]
PRACTICE AREAS
EDUCATION
Northern Illinois University (J.D., valedictorian, 2012)
Illinois Wesleyan (B.A., English; B.A., Theatre Arts, 1996)
ADMISSIONS
Illinois, 2012
U.S. District Court, N.D. of Illinois, 2012
FOLLOW
Brad Stewart focuses primarily on local government law, civil litigation, employment law and personal injury. On the municipal side, Stewart serves as appointed counsel for the Village of Lake in the Hills, Village of Kirkland, and DeKalb Township. Stewart has also been involved in collective bargaining, labor and employment issues, crafting ordinances and keeping local governments apprised of developing areas of law. In this capacity, he developed ZRFM's Local Government Law Bulletin and launched and hosts its podcast, the Illinois Local Government Podcast. He is also an experienced prosecutor of traffic and ordinance violations.
As it pertains to civil litigation, Stewart has successfully handled dozens of matters pertaining to complex contract disputes, partition actions and fraud claims. Stewart has obtained multiple awards of $1 million for clients through litigation. This is in addition to ongoing work in personal injury matters in which Stewart has obtained more than 100 successful outcomes through settlement, mediation, arbitration and jury trial.
On the financial side, Stewart has represented several credit unions and provides legal assistance in areas ranging from state and federal compliance issues, employment law, and issues regarding proper collection procedures.  He has also assisted in similar matters pertaining to banks.
Stewart has also successfully handled numerous labor disputes, collective bargaining negotiations, unemployment proceedings and situations involving allegations of employment discrimination and wrongful termination for both employees and employers.
He joined the law firm of Zukowski, Rogers, Flood & McArdle in 2011 as a law clerk and became an associate attorney in 2012 after graduating first in his class at Northern Illinois University College of Law. Stewart clerked for Justice Susan F. Hutchinson of the Illinois Appellate Court's 2nd District.
Stewart is a McHenry County resident and a native of Elmhurst.
HONORS AND AWARDS
Stewart was champion of the 2010 mock trial competition at Northern Illinois University College of Law. He was named the oral advocate runner up in the 2011 International Privacy Law Moot Court Competition at John Marshall Law School. Stewart also earned three writing scholarships: the Lakisha Sarden Scholarship for the Study of Civil Procedure Law, the Justin Pettway Award for the Study of Trial Advocacy and Ethics, and the Alumni Council Essay Award. A board member of Northern Illinois University Law Review, one of Stewart's articles was selected among the final 10 for the national Scribes Law-Review Award.
PRIOR EMPLOYMENT
Before attending law school, Stewart was a director and branch manager at two credit unions based in the Chicagoland area, both with a presence in McHenry County. At one point, he managed 18 business development officers across the country. He also was the chief executive at a chemical manufacturing company serving the dry cleaning industry. During that time, he was a columnist and contributing editor for the American Dry Cleaner publication.
CIVIC AND CHARITABLE ASSOCIATIONS
Stewart joined the board of directors for Pioneer Center in 2013, the largest charitable entity based in McHenry County. Pioneer has several facets, including services for people with developmental disabilities, homeless individuals, substance abuse issues and victims of sexual assault, among others. Stewart serves on Pioneer Center's board of governance committee and on its nominating committee.
He served from 2007 to 2011 on the board of Home of the Sparrow, a non-profit 501(c)(3) organization that provides transitional services for homeless women and children. The organization, which formerly was based in Crystal Lake, currently is located in McHenry, Illinois. In 2007, Stewart received the Unsung Hero Award for McHenry County through Advocate Good Shepherd Hospital for a series of fundraising events he performed for diabetes research and for his work with Home of the Sparrow.
PROFESSIONAL ASSOCIATIONS
Illinois State Bar Association, McHenry County Bar Association
PUBLICATIONS AND PRESENTATIONS
Speaker, "Newly Elected Local Government Officials," ZRFM event co-sponsored by McHenry County Council of Governments, May 6, 2017 (and May 20, 2015)
Author, "Understanding Changes to Illinois' Right to Privacy Act," Northwest Herald, Jan. 13, 2017
Author, "Considerations with FMLA Intermittent Leave," Northwest Herald, Oct. 5, 2016
Speaker, "Municipal Collaboration: Ways to Cut Costs and Improve Quality," Sept. 15, 2016
Quoted, "McHenry County towns consider video gaming, community interests," Northwest Herald, May 13, 2016
Author, "Overtime changes loom in 2016," Northwest Herald, Dec. 27, 2015
Author, "Why smaller banks are dwindling," Northwest Herald, Oct. 11, 2015
Author, "Disability compliance goes beyond written job requirements," Northwest Herald, July 12, 2015
Quoted, "Vehicle impound fees in McHenry County as Illinois court questions fees," Northwest Herald, July 8, 2015
Author, "McDonald's discrimination lawsuit a reminder of labor law liability," Northwest Herald, Jan. 25, 2015
Speaker, "Trending Legal Topics," McHenry County Council of Governments, Nov. 19, 2014
Author, "First-time home buyers disappearing," Northwest Herald, Nov. 9, 2014
Author, "Medical marijuana is coming to McHenry County region," Northwest Herald, Oct. 5, 2014
Author, "City's Ten Commandments Monument Ruled Unconstitutional," ZRFM Local Government Law Newsletter, Sep. 24 2014
Speaker, "Going to Pot: The Future of Cannabis Law in Illinois," Illinois Municipal League Annual Conference, Chicago, September 2014
Author, "Smaller corporate boards may be better than larger ones," Northwest Herald, Aug. 31, 2014
Author, "Remote Participation in Public Meetings," ZRFM Local Government Law Newsletter, Aug. 27, 2014
Author, "Municipality Not Required to Follow Police Pension Board's Funding Recommendation," ZRFM Local Government Law Newsletter, July 17, 2014
Author, "Pending Lawsuit Raises Issue Whether Public Comments Must Be Allowed in All Public Meetings under OMA," ZRFM Local Government Law Newsletter, July 2, 2014
Author, "Separation of Church and City? Prayer at Public Meetings," ZRFM Local Government Law Newsletter, May 28, 2014
Author, "How the new Workplace Violence Prevention Act impacts local governments," Local Government Law, newsletter of the Illinois State Bar Association Section on Local Government, April 2014
Author, "Outlawing Police Ticket Quotas," ZRFM Local Government Law Newsletter, April 16, 2014
Author, "New bill seeks to enhance workplace protections for pregnant employees," Northwest Herald, April 13, 2014
Author, "Proposed Cannabis Rules Released by the DFPR," ZRFM Local Government Law Newsletter, Feb. 20, 2014
Author, "How the New Workplace Violence Prevention Act Impacts Local Governments," ZRFM Local Government Law Newsletter, Feb. 4, 2014
Author, "Workplace Violence Prevention Act raises questions for businesses," Northwest Herald, Feb. 2, 2014
Author, "Legislative Updates for the New Year," ZRFM Local Government Law Newsletter, Jan. 6, 2014
Author, "Prohibited areas and signage: The hidden issues that remain for local governments with concealed carry," Local Government Law, newsletter of the Illinois State Bar Association Section on Local Government, December 2013
Author, "Amendments to the Local Debt Recovery Program," ZRFM Local Government Law Newsletter, Nov. 14, 2013
Author, "Illinois State Police Release Concealed Carry Restricted Signage Requirements," ZRFM Local Government Law Newsletter, Oct. 16, 2013
Author, "Prohibited Areas and Signage: the Hidden Issues That Remain for Local Governments with Concealed Carry," ZRFM Local Government Law Newsletter, Oct. 10, 2013
Speaker, "Municipal Law and Order," Illinois Municipal League Annual Conference, Chicago, October 2013
Author, "Underage Drinking Cannot Be a Jailable Offense & Related Implications," ZRFM Local Government Law Newsletter, Sept. 26, 2013
Speaker, "Forum For Business Support," addressing gun law's effect on employers, Crystal Lake Chamber of Commerce, Sept. 11, 2013
Speaker, "Ask the Attorney," update on recent developments in Illinois municipal law and practice, McHenry County Council of Governments, September 2013
Author, "Medical marijuana law has limits in the workplace," Northwest Herald, Aug. 11, 2013
Author, "Local Government Implications Regarding the Cannabis Act," ZRFM Local Government Law Newsletter, Aug. 8, 2013
Author, "Issues Going Forward with the New Concealed Carry Law," ZRFM Local Government Law Newsletter, July 11, 2013
Quoted, "Experts differ on whether new gun law applies only to home rule municipalities," Northwest Herald, July 7, 2013
Author, "What the Governor's Amendatory Veto Means for Illinois' Concealed Carry Law," ZRFM Local Government Law Newsletter, July 2, 2013
Author, "Local Debt Recovery Program: Successful Beginnings for Lake in the Hills," ZRFM Local Government Law Newsletter, May 21, 2013
Quoted, "Area leaders weigh concealed-carry bill's impact," Northwest Herald, May 2, 2013
Author, "Medical Marijuana and Municipalities," ZRFM Local Government Law Newsletter, April 25, 2013
Author, "Golf Course Taxes: Fixing a Hole in One Statute," ZRFM Local Government Law Newsletter, March 14, 2013
Author, "Favorable Ruling for Tort Immunity," ZRFM Local Government Law Newsletter, Jan. 17, 2013
Author, "Defense of Marriage Act ruling relevant to employers," Northwest Herald, Jan. 13, 2013
Author, "Why Courts Should Embrace the Ninth Circuit's Recognition of a Reasonable Mistake of Age Defense to 18 U.S.C. § 2251, Kane County Bar Journal, October 2011
Author, "How the Seventh Circuit Missed Wide of the Circuit Split Regarding Multiple Defendant Settlement Offers under Federal Rule of Civil Procedure 68," Kane County Bar Journal, July 2011